Charter yacht in Mahon
51

yachts for rent in Mahon
Popular destinations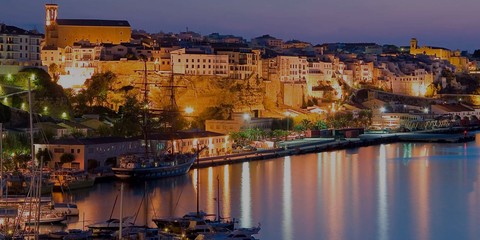 More offers on
Mahón is a small port city that is the capital of Menorca, the northernmost and smallest island of the Balearic archipelago. It is located in its eastern part, in one of the longest bays in the Mediterranean. Mahon was founded in the seventh century BC. and was full of historical monuments, but most of them were lost after the invasion of pirates in 1535.
Read more
Nowadays, the tourist and yacht infrastructure is actively developing, thanks to which tourists can rent a yacht in Mahon and explore the beauty of the local bay on their own or with a guide.
The port of the same name is located in the city center, which annually receives thousands of tourists and yachting enthusiasts. Due to the fact that it is at the end of a large bay, Mahon is often visited by large cruise ships, which easily enter it. Another popular tourist destination is the fishing village of Fornells, which is located in the northern part of the city.
In addition to a wide range of exotic seafood, tourists are encouraged to charter a yacht in Mahon to travel to the picturesque rocky beaches of Cala Mesquida and Arenal d'EN Castell, which are located north of the city center, 10 and 18 kilometers, respectively. Another beach is located 10 kilometers south of the center and can be reached by taxi. The rocky beach of Sa Mesquida is 6.5 kilometers from Mahon and is a great place for scuba diving. On the way there are several small anchorages offering yacht charter in Mahon for diving and sea travel.
There is no airport directly in the city, however, 4.5 kilometers to the southwest is the Menorca international airport, from which you can get to the capital by taxi. There are many local and Spanish restaurants in the small streets of the city, where you can taste exotic seafood dishes. Guests of Mahon can check into several hotels overlooking the bay.
The city is rich not only in picturesque natural views, but also in historical monuments. The most famous is the Church of Santa Maria, built in the 13th century and showing the features of the architecture of the Middle Ages. On Carrer Costa del Dr. Guàrdia is a monastery of the 16th century, inside of which is a museum with an exhibition of artifacts from the Carthaginian and Arab periods. Tourists are offered not only yacht charter in Mahon - they can visit interesting historical monuments, enjoy unusual dishes and soak up the picturesque rocky beaches.