Charter yacht in Santa Ponsa
4

yachts for rent in Santa Ponsa
Popular destinations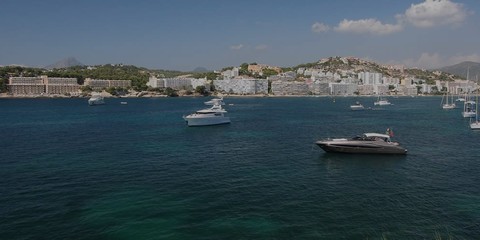 More offers on
The active development of the city's tourist infrastructure began in the middle of the 20th century - since then, tourists have been offered yacht rental in Santa Ponsa, recreation on picturesque sandy beaches, sea sports and many entertainment enterprises.
Santa Ponsa is a small town located on the west coast of the Spanish island of Palma de Mallorca. Its history, dating back more than a thousand years, is full of significant events - for example, in 1229 there was a large-scale battle between the Moors and Christians, who emerged victorious from it. This event is celebrated annually by local residents - a major festival is organized in honor of it with mass dancing and fireworks.
Read more
Palma de Mallorca International Airport is located 30 kilometers from the town - guests of the island can get there by bus, taxi or rented car. In the south-west of the resort, a seaport of the same name has been built, equipped with several hundred berths for ships. The largest hotels of the island, as well as restaurants, cafes, entertainment centers and luxury boutiques are located near it. Tourists can charter a yacht in Santa Ponsa to cruise the beautiful coastline of Mallorca and watch or take part in sporting events and sailing lessons.
The city is known all over the world for its beaches - large and small. The large beach is urban, its length is 1.5 kilometers, and its width is more than 130 meters. It is covered with golden sand and equipped with all the infrastructure necessary for a comfortable stay - cozy bars and cafes, water attractions, sun loungers, umbrellas and more. There is a large pine forest near it, where you can enjoy the pictures of nature and hide from the sultry heat.
The small beach is less popular among the guests of the city, as it is located in a secluded rocky bay and is not equipped as well as the big one. It is visited by lovers of calm and quiet rest, who want to enjoy the clear water of the Balearic Sea in close company. Renting a yacht in Santa Pola allows you to make a sea voyage through the numerous picturesque bays and do water sports - diving, snorkeling, windsurfing.
The city is full of sights and architectural monuments, the most famous of which is the Chapel of the Holy Stone, carved out of huge cobblestones. It is a museum, the exposition of which consists of ancient monastic regalia several hundred years old. Closer to the coast, a watchtower was erected in the 14th century, which allows visitors to see a beautiful panorama of the city and the surrounding islands. Tourists can rent a yacht in Santa Pola and experience its natural beauty, or stroll around the city center to explore the extraordinary architecture of the past.